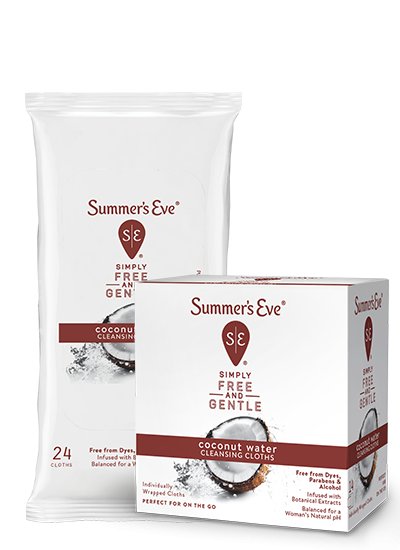 Coconut Water
Cleansing Cloths
Clinically Tested Safe Scents™
Simply Free & Gentle Cleansing Cloths. Summer's Eve® Simply Free & Gentle is made with simple ingredients, free from dyes, parabens and alcohol. Each cloth is infused with botanical extracts for an effective clean that is designed for gentleness.
With de-light-ful scents inspired by nature, our Cleansing Cloths are created for your most intimate parts, gently cleansing away the bacteria that can cause odor. Plus, each cloth is formulated to match a woman's natural pH.
Gynecologist tested. Hypoallergenic. Safe for everyday use.
Free from Dyes, Parabens & Alcohol.
Infused with Botanical Extracts.
Balanced for a Woman's Natural pH
Removes odor-causing bacteria.
Open packet, remove cloth. Gently cleanse the intimate area, wiping front to back. Use only once, then throw away; do not flush!