Simply Sensitive® Daily Gentle Individual Cloths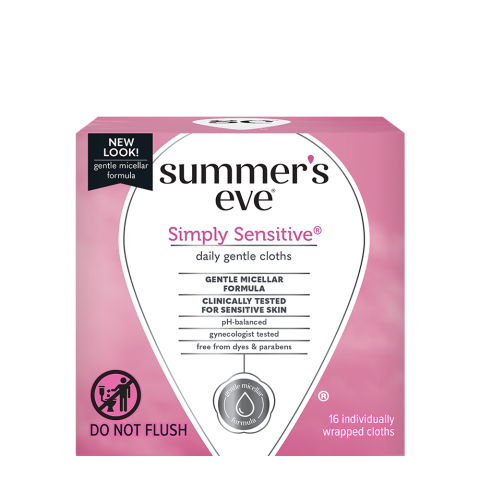 Simply Sensitive® Daily Gentle Individual Cloths
Experience a gentle kind of cleansing for your intimate area. A clean that isn't complicated and overdone. Uniquely formulated and pH-balanced to match your body's natural chemistry. Gentle intimate care, elevated
Product not tested on animals ❤️
Scent level as compared to other Summer's Eve® cloths
Simply Sensitive scent is subtly floral-fragranced for a barely there impression.

Water, Glycerin, Lactic Acid, Potassium Sorbate, Sodium Citrate, Sodium Benzoate, Decyl Glucoside, Disodium EDTA, Polysorbate 20, Fragrance.

For external use only. Remove cloth from foil packet, unfold, and gently cleanse intimate area, wiping from front to back. Use only once, then throw away. Do not flush!