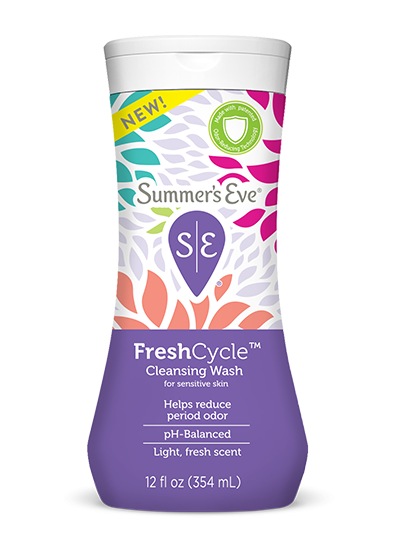 FreshCycle™
Cleansing Wash
Clinically Tested Safe Scents™
Boost your freshness when you want it most with Summer's Eve® FreshCycle™ Cleansing Wash. Use during your period or any day of the month. Made with a patented odor-reducing ingredient, FreshCycle™ gently reduces period odor without dyes, alcohol, and parabens. With a light, fresh scent, our Cleansing Wash is created for your most intimate parts and balanced to a woman's pH. Plus, Fresh-Cycle™ is gynecologist-tested and safe for everyday use.
Proven to reduce period odor
Clinically tested Safe Scents™
Removes odor-causing bacteria
pH-Balanced
Free from dyes, alcohol & parabens
Gently cleanses & freshens
*When used as directed.
For external use only. Dispense 1-2 pumps of foam onto toilet paper. Gently cleanse the intimate area, wiping from front to back. No need to rinse!